"I was surprised, as always, by how easy the act of leaving was, and how good it felt. The world was suddenly rich with possibility….." — Jean-Louis Lebris de Kérouac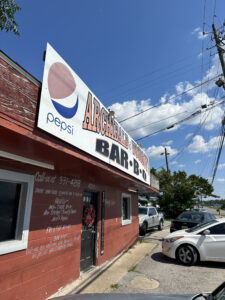 I've been driving — and hiking — and piling miles in the trusty 4Runner, crossing the American Southeast and Atlantic states between Houston and Cape Cod a lot this summer. I've seen the capital cities of Mississippi and Tennessee for the first time, found campsites in the dark woods of Pennsylvania and West Virginia, and enjoyed plenty of roadside barbecue and the occasional sitdown meal and probably a case of instant oatmeal along the way.
This doesn't quite match the distances conquered in 2022, when I made the x-country drive from New Hampshire to Seattle, and then dropped through Idaho, Utah and New Mexico along the eastern spine of the Rockies to get back to Texas. But in each season, I have found myself further impressed and enamored by the American intestate highways. The mixed legacy of petroleum bucks and road building has been oft-discussed by folks smarter than me. Just the same, I can vouch that basically 55 years after Jack Kerouac rolled his 1957 Beat manifesto On the Road off the typewriter there driving coast-to-coast can still awaken awe.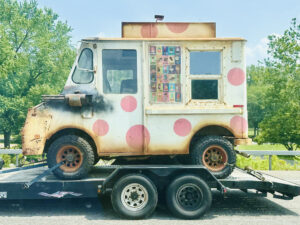 Obviously, the road is not the same as walking, and the internal-combustion engine a lazy person's substitute for shoe leather and quad strength, but give me a choice between an airplane and the cabin of my car (let's not forget Domino dog as my co-pilot) and I'll choose a case of yellow-line fever with asphalt and gro-gas-rest stops till the day I die.
For those who doubt the pleasure of these long days, often up to 10 hours behind the wheel, I offer these tips. Camp out! The state parks are calling, and in a pinch they offer dog-friendly accommodations in a wide variety of landscapes known only to the locals. This summer I've pitched my tent in Pennsylvania, Tennessee, Alabama and West Virginia, and waking to bird songs and hiking to falls with the grass still wet with dew is heavenly.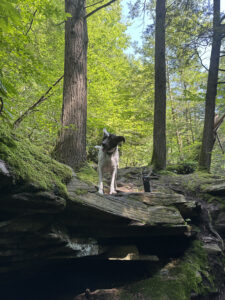 Second, audio books are your friend. I like music and podcasts, and will spin the dial for Top 40, classic country and rock and roll from time to time, but I love a good book read by a quality voice actor. CJ Box has been one of latest discoveries, and the contrast between the Big Sky landscapes haunted by Cody Hoyt and Cassie Dewell and the windshield scenery keeps things interesting. Last, take your meals in town — Yelp and Google are a resource for hungry drivers. Pull over and do some research, and don't remain beholden to fast food.
Okay, I've got to roll…. more posts coming soon. So come on back now, ya hear?