Labor Day just hits different after a summer on the road. And while I couldn't take Domino on the Appalachian Trail with me and Ursula back in June — she's not conditioned for that kind of effort, and the additional energy it would have taken to keep both the dog and daughter on the trail — my overgrown fur baby and I did have some sweet campouts last month.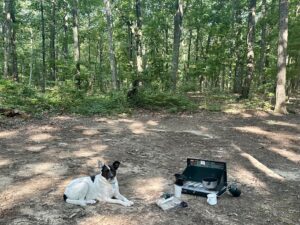 Indeed, since adopting Domino in the midst of the pandemic, her steady presence as a traveling companion on many outdoor adventures has added an element of joy to many trips I didn't know I was missing. Sometimes it takes a little bit of adjustment to sort out the stops on a longer road trip when you have a dog in tow. To wit, I try to stay sensitive to how shifting landscapes and long hours in the car might impact my canine companion, and there's the fact that a lot of national parks have rules against dogs on trails which though understandable can also be a buzz kill.
Still, from Domino's POV there's nothing wrong with exploring USFS lands and state parks. She does well in tents, and certainly seems to smile when cutting loose on forest trails or splashing in small Southeastern streams. This summer, we found remote campgrounds in Pennsylvania's Loyalsock State Forest, the Monongahela National Forest in West Virginia (where I will return again and again) and the highlands of northern Georgia's Cloudland Canyon State Park.
Scientists tell us that exposure to nature can help fight depression, lower our blood pressure and enhance our overall sense of well being, and while I'm not sure anybody has done a full-blown study on dogs, Domino seems to grin a little longer and wag her tail a little harder after a couple of days getting back to nature. And in the midst of all this shuffling about, I managed one night to leave my Therm-A-Rest in the car and having carried her dog bed I opted to share Domino's spot rather than hike back out. Cue Taylor "Karma is my Cat" Swift, as this was opposite our usual routine.
A lot of the basics for camping with dogs comes down to the advice you'd adopt for camping with kids. You don't need everything under the sun to make your canine companion comfortable, but some basic security items (chew toys, a blanket or bedding) and favorite foods can definitely help improve the outcome. With Domino, I was also super happy to discover that she is usually quieter in a tent than at home, where whatever acoustics and neigbhorhood can set off a barking jag, which is less common in the woods. This has a second benefit, as I don't worry about bugging my fellow campers — but if your dog is Mr. or Ms. Bark-a-Lot, seek more isolated sites to pitch your tent. Treats and waste bags are also requisite, while I like to roll out and do some hiking to beat back the wiggles after a long drive.
For those more interested in car camping, RV sites and developed campgrounds, there's a lot to be found at Bringfido.com. It's not my scene. But to each their own.
Hit me up with questions or if there's suggestions you think I'm missing. And in honor of my human daughter, here's a link to TS…..